IF FASHION FIXATION HAD REHAB…I WOULD'VE BEEN COMMITTED IN CHILDHOOD.
The daughter of a talented fashion retailer from London, I grew up reading the trades' Women's Wear Daily – and signed up to attend Paris collections at age 10. Not that my allowance covered airfare.
Fortunately, I wasn't permanently grounded. I paid for college working in fashion retail by selling, staging windows, wrapping gifts — even building fixtures. Customers asked for me personally at the front door, and executives begged me to forsake journalism to manage store departments.
Sorry, but I had places to go, including the catwalks in Paris, Milan, New York and Los Angeles as a full-time fashion editor/writer/photo stylist for six years and as a freelancer for 20. Unlike some fashionistas, I never lost sight of my audience: shoppers of all sizes and ages.
I also understand retail is the backbone of fashion.
But I'm more than a pretty dress. Contributor to a Pulitzer finalist, I also work as a profile writer and B2C/B2B content writer, strategist and ghostwriter on:
MEDICINE for American College of Obstetricians and Gynecologists, Memorial Hermann hospitals, UTHealth, MJH Life Sciences, Managed Healthcare Executive, Jupiter Medical Center,  Boca Raton Regional Hospital, Diabetic Living, AllAboutVision.com, GQ, National Geographic Traveler, Men's Journal, Cosmopolitan, Marie Claire, GH, Redbook, Woman's Day, Men's Health, Men's Fitness, Details, Shape, Self, and Professional Compounding Centers of America.
MARKETING/BRANDING/RETAIL for Association of National Advertisers, IABC (International Association of Business Communicators), CMO.com, Entrepreneur, USA Today, Pace, Manifest, Hearst, Forbes, Time, Mastercard, Visa, AARP, Meredith, Imagination Publishing, Ink, Brafton, The Pohly Co., International Interior Design Association's Perspective, Wells Fargo Conversations, Wells Fargo Home, Regions, U.S. Bank's Reserve, Western Union, Penske, Bonnier, City University of New York (CUNY), National Association of Realtors' Realtor, JCK, InVision, DMN, Vision Care Product News, DealNews.com, Palm Beach Media Group, Smart Work Media, First Vision Media Group and InMarketing.
DESIGN & BEAUTY with profiles, trend forecasts, features, branded content and photography for W, GQ, Allure, Palm Beach Illustrated, Naples Illustrated, art&culture, AllAboutVision.com, Four Seasons, Modern Luxury Interiors Texas, Modern Luxury Weddings Houston, DAYSPA, NAILPRO, Glamour, Glamour UK, InStyle, Staples Worklife, The Ritz-Carlton, Neiman Marcus The Book, Real Simple, Redbook, GH, More, Seventeen, Arts & Antiques, United's Hemispheres and Rhapsody, American Airlines' American Way and Celebrated Living,  Metropolitan Home, Fresh Home, Home, Family Circle and Neiman Marcus Entree.
LUXURY TRAVEL for Departures' Ultimate City Guides to Houston and Dallas, Travel + Leisure, National Geographic Traveler, Southern Living, The Daily Beast, Gayot.com, Four Seasons, The Ritz-Carlton, Private Clubs, Palm Beach Illustrated, Sotheby's ONE Life, The Breakers' Traditions, U.S. Bank's Reserve and Caviar Affair Magazine.
REGULAR GIGS AS:
Profile Writer at Palm Beach Illustrated (cover stories), Jupiter (cover stories), art&culture, The Breakers' Traditions, Four Seasons, INVISION, Modern Luxury Houston, Modern Luxury Weddings and Pinnacle Magazines.
Contributing Writer at Modern Luxury Houston Magazine, on fashion, interior design, art and beauty.
Contributing Writer at CMO.com, Adobe's website for Chief Marketing Officers.
Contributing Blogger at Memorial Hermann Hospitals' EveryDay Well Health + Wellness.
Frequent contributor and former columnist at MJH Life Sciences' Managed Healthcare Executive.
Contributor at JCK Magazine, the top trade magazine for the jewelry and watch industry.
PREVIOUSLY AS:
Houston Correspondent for retail trade Women's Wear Daily for 11 years, Allure for eight years and Lucky for one year.
Fashion Editor at Houston Chronicle and Memphis Commercial Appeal for six years.
Acting Art Editor at Memphis Commercial Appeal for one year.
Journalist at major newspapers for 11 years in Houston, Dallas and Memphis, as investigative journalist, also medicine, courts, crime, fashion and features.
Contributing Writer at United's Rhapsody Magazine, contributing fashion profiles and trend features.
Founding Fashion Editor, Chief Fashion Writer and Resident Fashion Expert at MasterCard's Luxury Magazine (formerly Black Card). I helped launch the magazine, forming the fashion vision and aesthetic. I wrote copy and headlines, and chose art for the fashion pages of the print-only quarterly received exclusively by MasterCard's top spenders (and formerly Visa's).
Fashion and Beauty Editor at Caviar Affair, whose readers have a median net worth of $18.3 million. I curated sublime fashion, beauty, interior design and luxury travel for the quarterly.
Fashion/Interior Design Editor at VIVMag, an elegant online quarterly and Folio Eddie award winner for women.
I also contributed to nine books, including Carolina Herrera by Alexandra Kotur (Assouline, 2004), along with Vogue's Anna Wintour and Vanity Fair's Graydon Carter.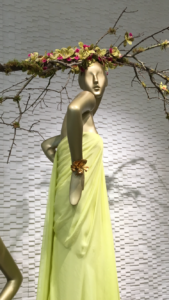 Excellent references available upon request. More on LinkedIn.