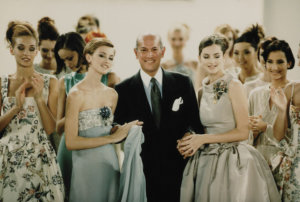 Silly me. When I saw the "Culture" headings on women's magazine websites, I assumed I'd find more stories about art fair Basel than what's base, as in sex-tape tycoon Kim Kardashian pitching contour kits.
Wrong. The only culture readers want is "pop" – as in celebrity fixations or reality star scandals. That's because the force behind online culture isn't literature, art exhibits or concertos. It's clickbait. Thus, Oscar refers solely to Academy Awards hype, and late great Oscar de la Renta's only relevance is having designed Amal Clooney's wedding gown.
So here's your news flash: The Museum of Fine Arts, Houston hosts a one-of-a-kind exhibit this fall of de la Renta's divine dresses from across the decades. That's culture – as in to-die-for silhouettes and trend-setting creativity.
As a fashion editor who's savored not only de la Renta's runway collections but also conversations with the dapper gent in Houston, New York and Paris, it saddens me that his charm and talent are a tough sell in Web World.
If only today's "cultured" knew what they're missing.