Give yourself over to this stylish feast – and reserve two hours for the experience. I loved it so much, I was dying to return soon after a preview of the glamour, romance – and artistry – of Oscar de la Renta. So I did.
The Museum of Fine Arts, Houston's tribute to the Dominican Republic designer comes alive thanks in part to its styling and accessorizing by his close friend and former Vogue editor, Andre Leon Talley.
I'm already contemplating a three-peat to savor again these top 10 fashion moments among 70 artworks:
A red-sashed black-dotted white flamenco dress meant to be danced in was a favorite of de la Renta and Talley.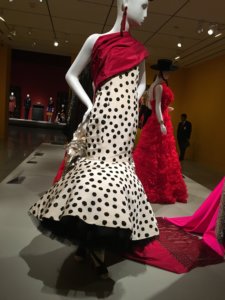 A rotating platform allows viewers to admire from all sides a strapless silk tulle stunner worn by former Houstonian and New York socialite Allison Sarofim a dozen years ago. Shimmering shooting star embroidery bedazzles not only the top layer but those beneath.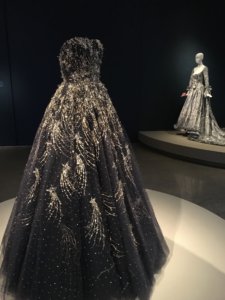 What an exit Taylor Swift made at a recent Met Gala, as the New York Metropolitan Museum of Art fundraiser is known. Her ballet pink gown has an oversized origami-style bow.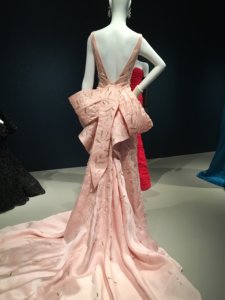 Nearby stands the favorite black dress of de la Renta's wife, Annette. Talley told me Mrs. de la Renta was her husband's muse and would've worn the LBD (as in lacy) to the MFAH's Oscar gala – if it weren't on display.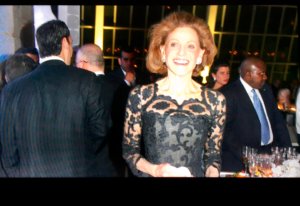 Video of de la Renta's beloved 500-acre Kent, Conn. garden tricks the eye, making a mannequin in a beautiful floral gown seem to glide through lush, English-style hedges.
The Kardashians didn't invent the bare midriff. An Asian-inspired gallon lace, beaded and rhinestone-adorned wool crêpe column that's scooped out at its sides dates to 1968.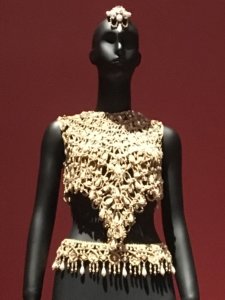 Not only does the audio tour offer insights into de la Renta's life but also catches the fabulousness that is Talley. And for many spectators, this is the first opportunity to hear de la Renta himself and the whiskey-throated voice of leading Houston philanthropist Lynn Wyatt.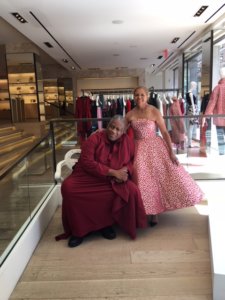 Rarely are costume exhibits as well staged and lit as this one. Mannequins seem to be gossiping among themselves. One sits on a bench and leans forward as if she's about to remove her Manolo Blahnik mules.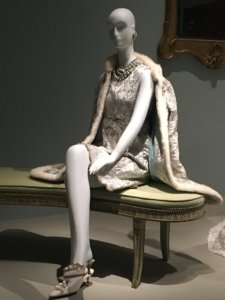 Spectators get an inside glimpse of the gorgeous garb fine arts patrons have worn to local balls or dinner at the Wyatt Hyatt, as her and husband Oscar's River Oaks manse was nicknamed. Former First Lady Laura Bush, Houston First Lady Elyse Lanier, anesthesiologist Yvonne Cormier and philanthropists Carolyn Farb and Rosanette Cullen all loaned their party wear.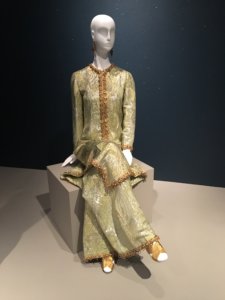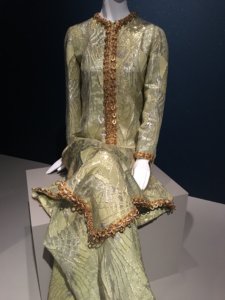 Last, as at a runway show, the  pièce de résistance is a wedding dress. But not ANY wedding dress. It's the one Amal Alamuddin wore to marry George Clooney. This is the very first time the late de la Renta's final couture gown has been shown since their 2014 nuptials in Venice, Italy.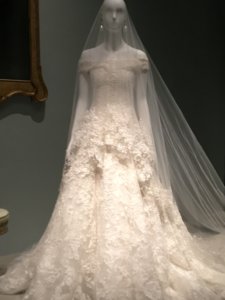 For more dish, read "And the Oscar Goes to…," my story in the November issue of Houston Modern Luxury – and see the exhibit itself before it closes Jan. 28.
Then, like me, you'll want to hurry back.