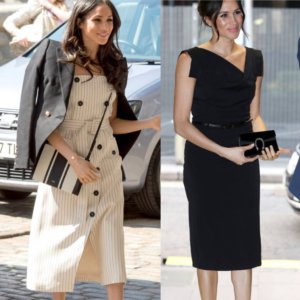 Day and night. Black and white.
A month before her wedding to Great Britain's Prince Harry, Meghan Markle's personal fashion show has been all about styling – and selling merchandise.
This week her Black Halo LBD (inspired by London-based Roland Mouret's famously flattering Galaxy dress) was a safe bet. She wisely wore her hair up to flaunt the neckline and added sky-high Aquazzura stilettos.
Simple elegance.
Her daytime look that day married an ink and white striped dress with a lovely striped cross-body bag and a great DB blazer.
But the ensemble was a fashion fail – by a repeat offender.
So much went wrong. Let me count the ways:
1) Coat sleeves are there for a reason. Use them! Otherwise, this sharply tailored blazer creates an unflattering shoulder hump.
2) All those buttons and the high-waisted belt are too busy, especially with the handbag.
3) If you insist on buttons on your dress, have them match the blazer's buttons.
4) if you have a great body, show it off with a fitted dress, not this sad sack.
5) Beyond the garments themselves, Markle comes off as a clothes huckster. Even in her evening look, she clutches her Gucci clutch unnaturally, with fingers pointing to the Gucci clasp.
Shilling clothes does not befit America's first "princess" since Grace Kelly. That, in itself, is not a good look.