Where do I begin…Everything that's wrong with current trends is captured in this label's wares, starting with the Maison Alexandrine collection's name: prêt-à–couture — an oxymoron if ever there was one.
The current approach to design is: Go crazy. The Maison certainly has — but they're not alone. So have Gucci, Fendi and so many others.
FEATHER DUSTER WITH A BOW
I'd hide my face too!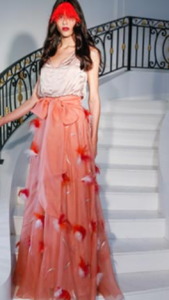 HOWDY, COWGIRL
Can't choose between a turban and a cowboy hat? Wear both!
Transparent top and "sweat" pants in an intense aqua? Not unflattering enough? Well, slap pockets on the hips and adorn the top with flowerettes. Sure, why not? They're all in "fashion," right?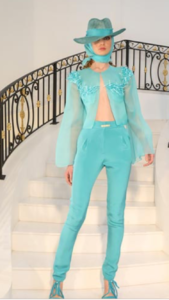 WHITE AND BLACK — YOU CAN'T GO WRONG
Oh, yes you can.
First, we've got a blouse with ruffles, bows, lace and an overwrought silhouette. Congrats, you look like a substandard poodle.
But that white tuxedo suit really chaps my hips. It would be so beautiful without the rows of fringe. Fortunately, they're attached to the belt so they're removable.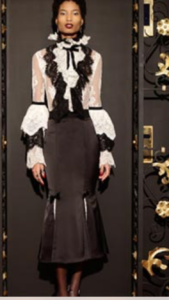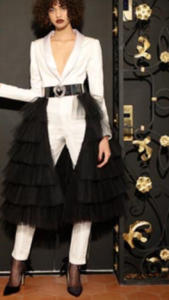 As my mother would've said, when in doubt, leave it on the rack!
Not adequately appalled? Follow me on Instagram: @Michele_Meyer77.