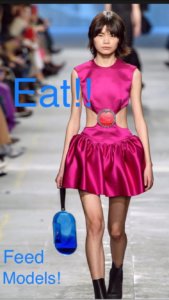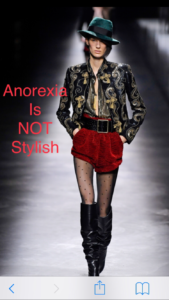 By MICHELE MEYER
Fashion is built on the backs of models. Their elegance, beauty and tall, broad-shouldered, "clothes hanger" bodies are coveted by women beyond the garments that clad them.
But today's designers are showing and selling their wares on gaunt, hollow-cheeked skeletons – female and male. To wear nipped-waist jackets, men must have jutting rib cages and pelvic bones.
Actresses then must diet down in order to glide down red carpets in borrowed ballgowns. And starlets now are bone thin.
The teens and women who crave the glamour of celebrities also long for those bodies. Look at how the Kardashians made steroid-big boobs and butts the rage.
Never forget that fashion sells more than garb. Now it's selling anorexia on sometimes shaved-headed, tattooed models who look like they've just emerged from concentration camps.
We should be horrified, not mesmerized.
Starvation is sick, never chic. It can kill you. Please don't buy it.
Above: Christopher Kane and Saint Laurent.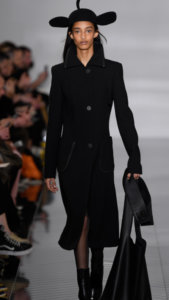 Loewe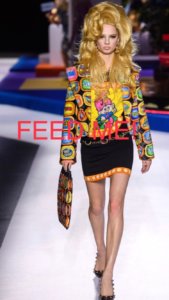 Moschino