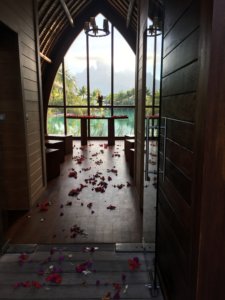 OVERDRESSED
The Bride Wore White Again and Again
By MICHELE MEYER
Instagram has ruined love.
In the good old days you wore your mother's wedding dress, got married and managed to dance through the night in that same sentimental gown.
Now nuptials seem to be about more and more clothes and images of contrived "moments."
I blame celebs and Influencers who started styling everything, demanding all guests wear certain colors at the rehearsal dinner, wedding and reception. See GOT's Sophie Turner and Joe Jonas, who got married twice. For their second wedding, they went all out, wearing red to their "rehearsal" dinner, while requiring all guests wear white.
Even before their drone-captured proposals, famous brides including Modern Family's Sarah Hyland choose their rings themselves.
Brides-to-be now don ivory starting with their staged proposals to their bridal showers, rehearsal, wedding, honeymoon and on and on. (See actress/singer Lea Michele, who married retail exec Zandy Reich.)
But Vogue Magazine just featured nuptials that truly take the wedding cake.
In the span of about five hours of one night, the bride wore FIVE gowns, three of them haute couture.
The editors crowed about her "effortlessly elegant wedding."
I, on the other hand, see this as the ultimate narcissism. Imagine all the time she wasted getting changed, while the groom and guests were on their own, waiting.
It started with the haute couture dress in which she said her vows. (Even then she was so late to the altar that her groom texted her, worrying he'd been jilted).
At this point I would have lost patience, but not the groom. He indulges her, starting with a proposal in a suite at Georges V in Paris, which he'd filled with white roses, and I mean filled to the brim. (Fellas, you've gotta live up to that standard now!)
How can you fit five costumes into less than five hours? Here's how: After saying her vows in a couture lace gown and veil, the bride took a moment or ten to herself. (The groom, … oh, who cares!)
For the cocktail hour, she donned a "dramatic feathered" and "voluminous modern playful" Giambattista Valli couture gown. For the First Dance, she switched to a frothy "whimsical" designer dress. Of course, she changed into another Giambattista Vali pale pink, romantic and sheer haute couture gown for dinner.
Finally, after the meal, she changed into yet another pearl-adorned Monique LHuillier designer gown.
Of course, Vogue was there — though not always the groom. Who cares about him and the guests, who wore the same dictated outfits from beginning to bitter end?
For me, the final photo caption sums it up: "The end to a magical night! Emma insisted I do photos on the stairs, and now I'm glad she did!"
Yeah, right. The photographer Emma insisted. Where was the groom while the newlywed flaunted her gown? He'd probably long given up and gone to bed in a suite stuffed with roses.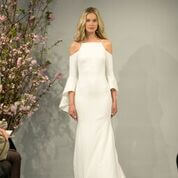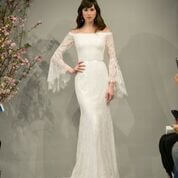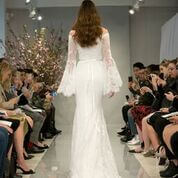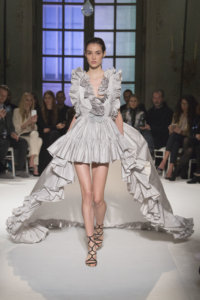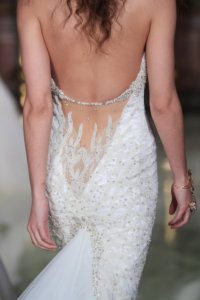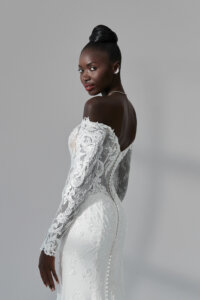 Images, courtesy of: Theia (top row); bottom row, left to right: Giambattista Valli haute couture; Galia Lahav; and Justin Alexander Signature (final two).