By MICHELE MEYER
Advent calendars are hard to resist: Who doesn't love tiny treasures, each a surprise that extends the holidays for up to 25 days?
And at a time when we're stuck at home, travel-sized samples of fragrances, skincare and candles can transport us to another country, no costly hotel stay required.
Here are the best of the best to give—or receive. Pounce quickly: These advent calendars sell out quickly!
ACQUA DI PARMA
HIDDEN DELIGHTS: Acqua Di Parma takes you to Tuscany, with body creams, hair mist and candles in signature scents. Highlights include Notte di Stelle candle, Rosa Nobile body cream and summery Quercia and Yuzu fragrances. All aboard: Brit actress Gemma Arterton loves the brand. Grazie.
FEEL GOOD FACTOR: The calendar comes in Acqua Di Parma's signature sunny marigold yellow, adding cheer to the holiday season.
DAYS: 25.
TO BUY: $550, Saks.com.
DIPTYQUE
HIDDEN DELIGHTS: Sure to please is this sampler of 11 candles (Baies, Roses, Tubéreuse, Figuier, Noisetier, Ambre, Mimosa, Musc, Feu de Bois, Lys and Narguilé), each 35g.; limited-edition Moonlit Fir, 70g; three eau de parfum (the new Eau Capitale and classics Eau de Peau and Eau de Minthé), 10ml; and four eaux de toilette (Do Son, Eau des Sens, Philosykos and Tam Dao), 10ml. If that's not enough to seduce, drawers also reveal minis of body cream, shower oil and exfoliating body scrub, each 15ml, and a Do Son solid perfume, 3.6g.
FEEL GOOD FACTOR: The calendar's dreamy art by Parisian Ugo Gattoni makes a glamorous addition to your mantelpiece.
DAYS: 25.
TO BUY: $425, diptyqueparis.com.
MOLTON BROWN
HIDDEN DELIGHTS: Pamper your bestie or yourself with a variety of Molton Brown's bath oils, shower gels, shampoos, conditioners, eye gels and hand and body creams. Highlights include Elderflower body lotion, 1.7 fl. oz.; Jasmine & Sun Rose bath oil, 1.5 fl.oz.; Orange & Bergamot hand cream, 1.4 fl. oz.; and Coastal Cypress & Sea Fennel bath salts, 25 g.
FEEL GOOD FACTOR: The calendar itself is worthy of displaying on your mantle, thanks to its elegant art deco-inspired holographic foil case.
DAYS: 24.
TO BUY: $250 ($324 value), moltonbrown.com.
OPI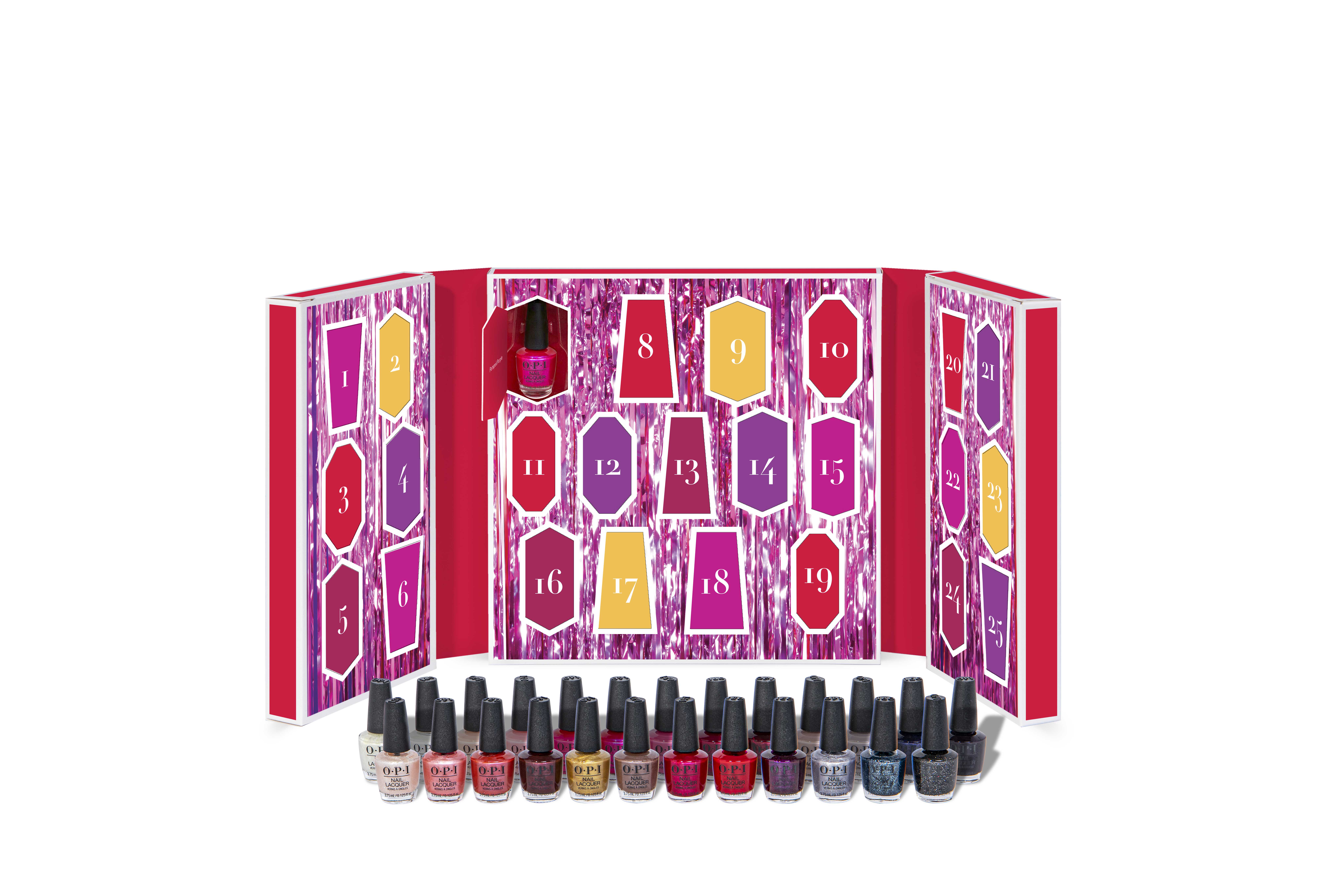 HIDDEN DELIGHTS: The OPI Shine Bright Advent Calendar features minis in new holiday shades and all-time faves. We're drooling over many—and how can you not with these names: Naughty or Ice?, Snowfalling for You, This Shade is Ornamental!, Dressed to the Wines, This Gold Sleighs Me, Gingerbread Man Can, Merry in Cranberry, Red-y For the Holidays, Let's Take an Elfie, Tinsel, Tinsel 'Lil Star, To All a Good Night, Heart and Coal, Alpine Snow, Bubble Bath, Tickle My Franc-y, Taupe-less Beach, It's a Girl, Malaga Wine, Bogotá Blackberry, Aurora Berry-alis, Strawberry Margarita, Pompeii Purple, Russian Navy, Lincoln Park After Dark and Kyoto Pearl.
FEEL GOOD FACTOR: Nail enamel has the power to make you feel put together, joyous and chic. Who doesn't need that boost with so many mani-pedis lost during the seemingly endless pandemic? The polish names alone boost our spirits.
DAYS: 25.                                            
TO BUY: $49.96, 3.75 ml., each, OPI.com
THE WHITE COMPANY
HIDDEN DELIGHTS: Adding joy to the countdown to Christmas are votives in six holiday aromas of Fir Tree, Winter, Midnight, Pomegranate, Fireside and Highland Escape, each 2.6 oz.; sleep and calm pulse point oils, 0.34 fl. oz.; and skin, body and hair care minis in bestselling scents, including Seychelles, Blanc and Noir.
FEEL GOOD FACTOR: The pièce de résistance is a rose quartz Gua Sha stone to firm and massage skin.
DAYS: 25.
TO BUY: $229, thewhitecompany.com.
KIEHL'S ADVENT CALENDAR
HIDDEN DELIGHTS: Kiehl's brings out its best, making this advent calendar well worth the yearlong wait.
Featuring joyous art by Maïté Franchi, behind the doors you'll find travel-sized face, body and hair care.
We've got our eyes on the eye creams, including Midnight Recovery Eye, 0.1 oz.; Creamy Eye Treatment With Avocado, 0.5 oz.; and Powerful-Strength Line-reducing and Dark Circle-diminishing Vitamin C Eye Serum, 0.1 oz.
Other highlights, among many, are Crème de Corps body cream, 1 oz.; Lip Balm #1, 0.5 oz.; Clearly Corrective Dark Spot Solution, 0.14 oz.; Rare Earth Deep Pore Cleansing Masque, 0.5 oz.; and Hydroplump Retexturizing Serum, 0.17 oz.;
FEEL GOOD FACTOR: We love that the calendar's paper is recycled – with no plastics used. And $1 from each sale benefits Feeding America, the nation's biggest hunger-relief organization.
DAYS: 23.
TO BUY: You get a $207 value for $98, kiehls.com
JO MALONE LONDON
Give joy from Jo. This calendar enables you to become a fragrance mix-master, thanks to mini candles, colognes, and bath and body luxuries in Jo Malone London's new scents as well as classics such as English Pear & Freesia and Green Tomato Leaf.
FEEL GOOD FACTOR: Pampering means so much more during the pandemic.
DAYS: 24.
TO BUY: $450, jomalone.com.
INSIDERS' TIP: Many of these brands offer #BlackFriday and #CyberMonday deals — available now! Why wait?!
All Art Courtesy of Brands