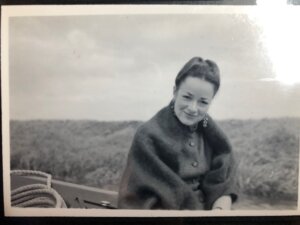 THE LESSON: The chisel that cracks a glass ceiling is made of passion, bravery and excelling in your craft.
The Watergate scandal birthed many journalists. But my career sprang from a visit to London's Fleet Street and accompanying my aunt Caren Meyer, then a reporter at The Evening Standard.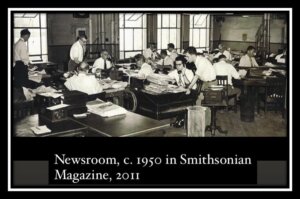 As we entered the newsroom, her boss approached carrying a package she'd received. How gentlemanly. Not quite. He was concerned that the ticking parcel was a bomb.
I backed up as quickly as I could. Caren did not.
I don't recall what was in the box. All I cared about was what wasn't. We were safe.
Then I looked around and realized I'd entered a '40s flick starring Katharine Hepburn. Only in this case, the ballsy, pants-wearing Woman of the Year was my aunt.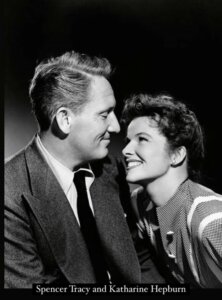 As for the Spencer Tracy, there was no shortage of potential male leads. More than a dozen crusty men reeking of tobacco sat at old-school gray metal desks.
Caren introduced me to each of them, desk by desk. Maybe because it was the holidays, every one of them opened their bottom right drawer, pulled out a whisky bottle and offered me a drink.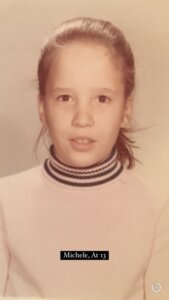 I was 13. And no, I did not imbibe.
No matter. Off Caren and I went to do interviews for the latest investigative series that was drawing her death threats.
On the way, she suddenly did a U-turn into a petrol station. She'd spotted a shiny '30s auto with wooden spokes at one of the back pumps. Instinctively, she knew a fascinating story would be behind it.
She was right. The man who'd inherited the property had chopped down a tree with a trunk as thick as a VW because it blocked the garage. He'd had no idea that a mint-condition car was inside.
Then it was on to our original destination: decrepit flats (apartments) with elderly tenants. My heart went out to them as they quaked with fear while revealing how strongmen would threaten violence and eviction should they squawk to her or authorities about the squalor they endured.
Afterward we returned to the newsroom, where Caren wrote her stories on an upright typewriter while puffing on a foot-long cigarette holder, like Marlene Dietrich in the oldies.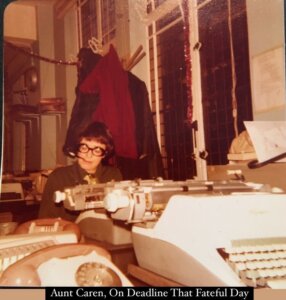 I was mesmerized.
I'd known since age 10 I wanted to be a writer, but that experience birthed a journalist—and not because my aunt later won the British equivalent of the Pulitzer Prize for the slumlord series.
Mostly, I fell in love with how my father's sister saw stories everywhere and pursued them, no matter how off the beaten path they might seem. And, like Barbara Walters, she didn't allow sexism or ageism to block her path.
She stayed the course—and so would I.